Tracking data across multiple, disparate sources will cost you a ton of time. That data is missing key information.
No one should have to do this work manually. However, manual data collection and reporting can be counter-intuitive and distract other people away from their core responsibilities.
Crystal Ball is a predictive marketing tool that empowers your marketing strategy with deeper insights from automatically annotated data analytics. Crystal Ball offers automated contextual data tracking and insights. It integrates with over 4000 apps via Zapier.
Crystal Ball has a lifetime deal. With Crystal Ball, you can automate your marketing goals further than ever before using its powerful predictive algorithms to dynamically improve every aspect of your business. Crystal Ball can improve any business strategy by showing you how your customers behave and interact with your site in real-time so that you can make better decisions faster.
Say hello to Crystal Ball
What is Crystal Ball?
Crystal Ball is an automated predictive analytics tool. It integrates with thousands of applications via Zapier to annotate its data insights by providing deeper context and customer behaviour analysis. Crystal Ball offers a lifetime deal, which means you only have to pay once to use it forever!

TL;DR
With automated annotations for Google Analytics reports, you can easily track events and enhance your marketing ROI.
Zapier integration makes it easy to connect with over 4,000 apps and track events.
This tool is best for web analysts and digital marketers.
Automated data analytics annotations make your work easier and more efficient.
Crystal Ball Lifetime Deal Features
Marketing Attribution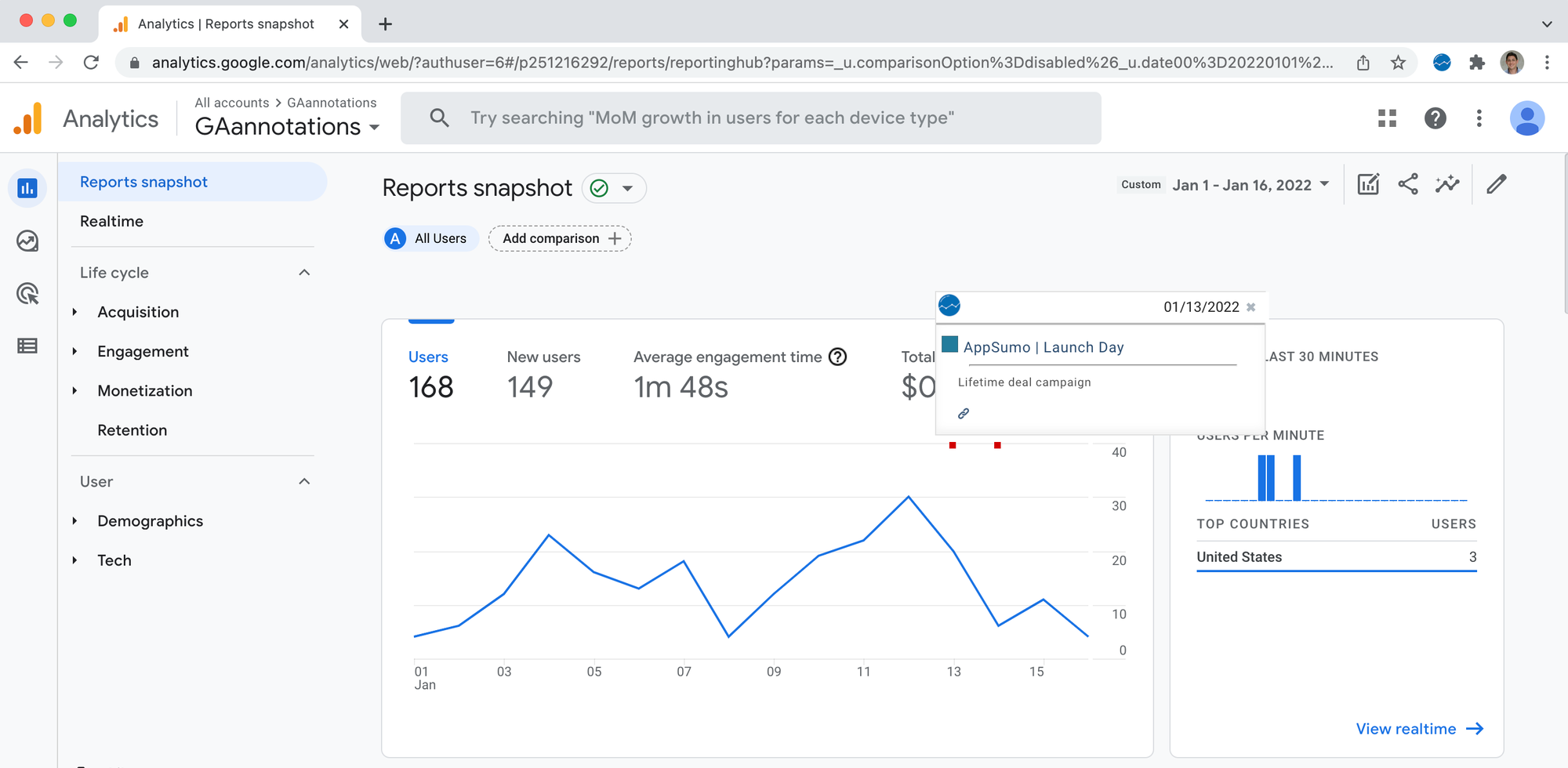 With Crystal Ball, you can get a complete understanding of your customer's life cycle, from the reason for their first touchpoint to acquisition and retention. By bringing together data across performance and actions, Crystal Ball provides a complete view of your customers' interactions with your site.
Connect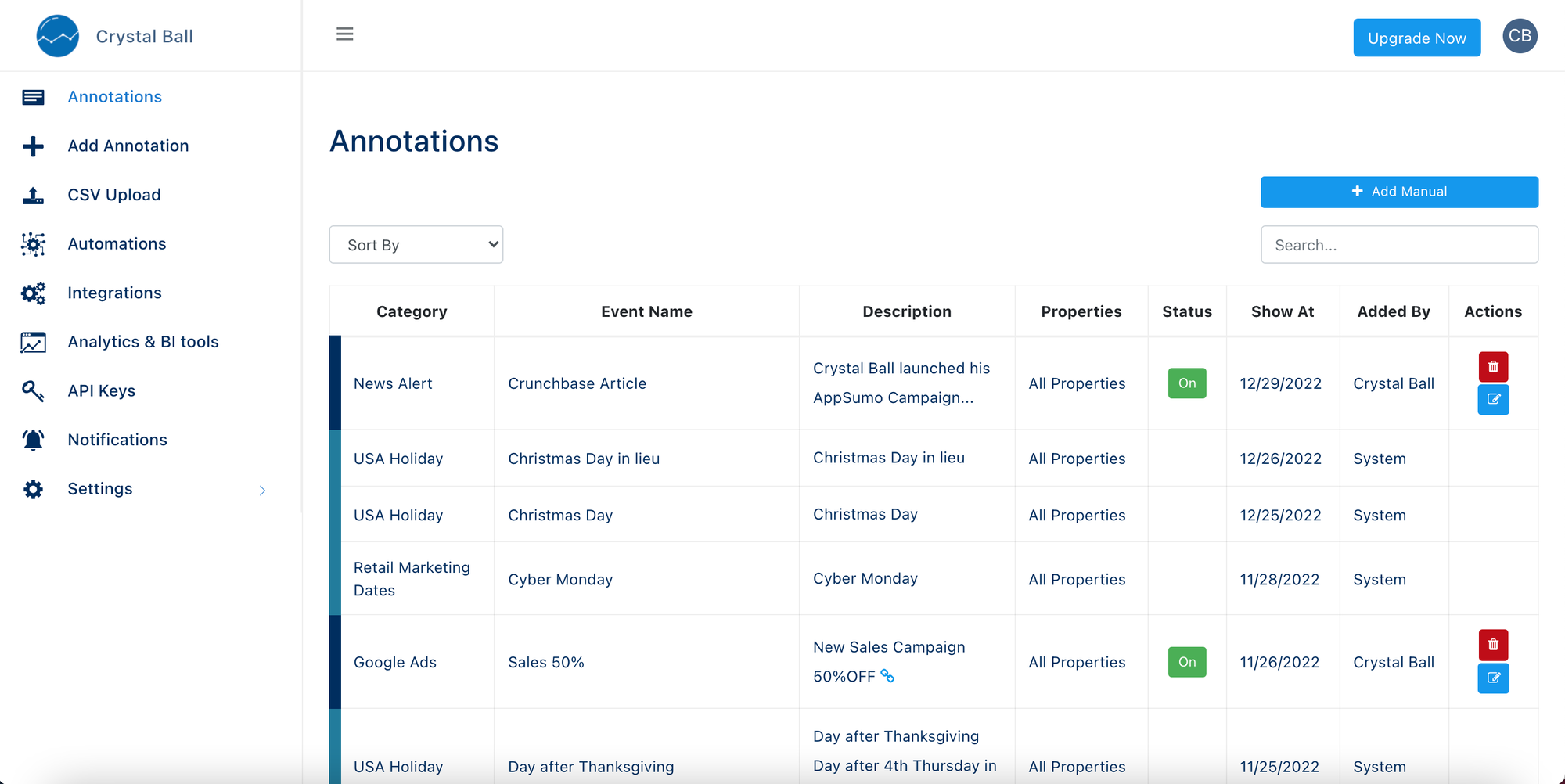 Looking for clarity in your data? Our team can empower you to discover insights hidden in your Google Data Studio reports, Google Analytics, and Microsoft Power BI.
Integrate
Adding Annotations Automatically is a great way to keep your data organized and up-to-date. With more than 4,000 apps available, it's easy to find the perfect tool for the job.
Automated annotation for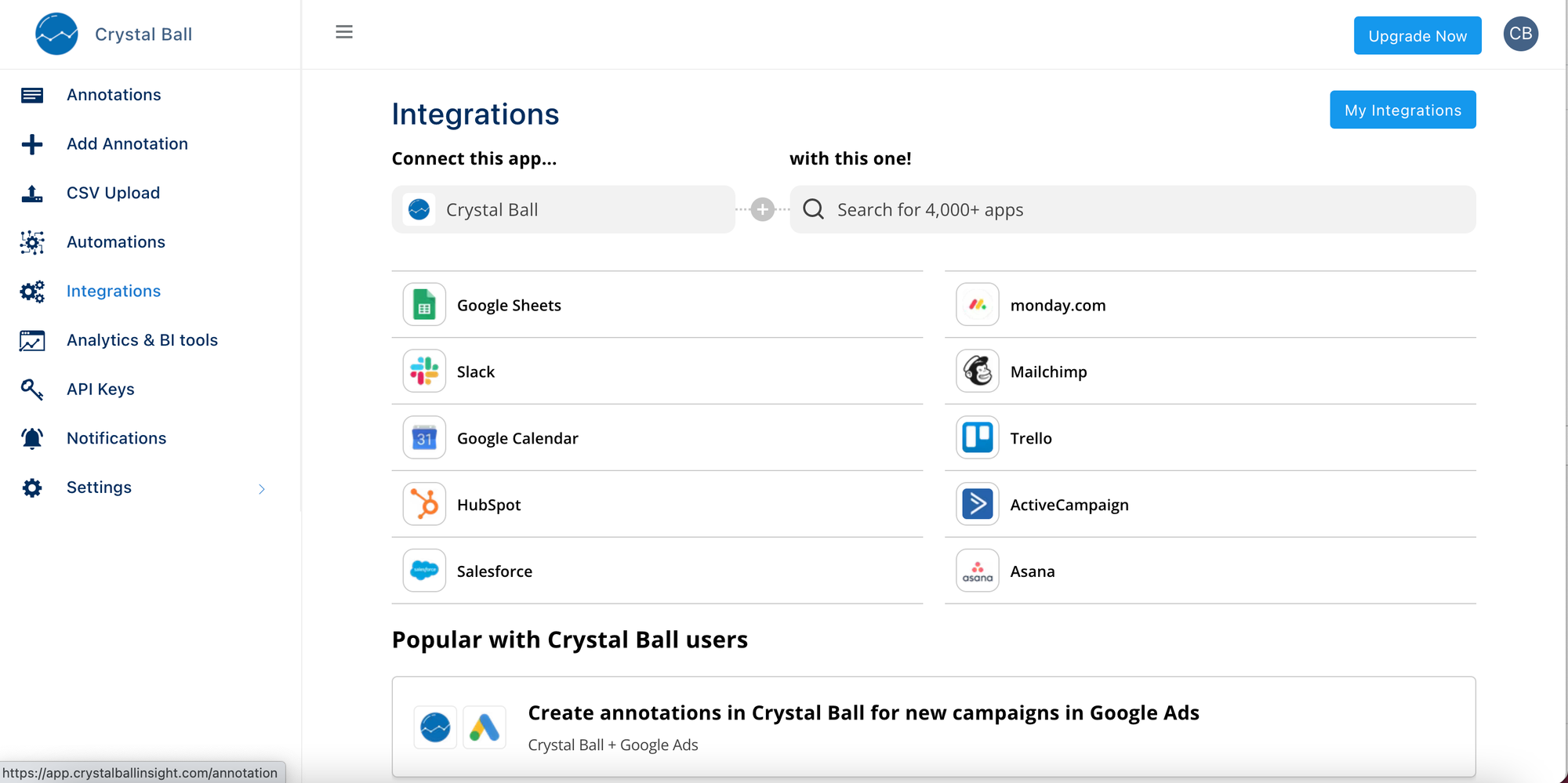 With so many things going on, it can be hard to keep track of how your website traffic is affected. Luckily, you can use automated annotations sources to help you keep track. Add the Holidays, Google Algorithm Updates, a New Press Release, Black Friday, and Website Blackouts as sources, and you'll have a better understanding of how each event affects your traffic.
Notification alert
Would you like to receive alerts for holidays and retail marketing dates, so you can better plan your marketing? Our notification system will send you an SMS message immediately after it detects an alert.
Understand your data, better and faster

How do you remember all the campaigns and improvements you made that affected ROI? It can be difficult to remember exactly what changes you made to your website or mobile app and when, which makes it hard to measure the impact of those changes. 🧐 Adding annotations to your analytics data can help you keep track of everything that's happening on your site and in your app. This is essential data to have at a glance every time you log in to your analytics.
Crystal Ball Appsumo  lifetime deal 
As a business, you want to make sure that you are getting the most for your money.
That's why License Tier 1 is the best value for your investment. For one time purchase of $59.00, you get all the features of License Tier 2, plus 10 connect and filter properties and unlimited annotations.
This is a great deal for businesses that want to get the most out of their data.
Get a Lifetime deal in Appsumo only for $59 dollar for a limited time
Analytics dashboard
Unlimited report downloads
Website monitoring: 3 URLs at a time
100 news alerts: keywords can be changed daily
Chrome extension
Data studio connector
Manual annotations
CSV upload
Annotations API
Get an Extra 10% off Crystal Ball lifetime deal
Follow the below method if you want to get a 10% off Crystal Ball lifetime deal on appsumo.
Click here and go to Crystal Ball lifetime deal appsumo page
Wait 10 seconds to pop up appear on the screen
Put your email into email box
Cheek your email inbox to get an extra 10% off
It is applicable for a new account or first order.
Crystal Ball lifetime deal and Review conclusion
As a business owner, keeping track of your marketing campaigns and understanding the return on investment can be difficult.
Crystal Ball is a tool that helps you automate the data tracking process and gives you a clear view of your analytics reports without all the guesswork.
With Crystal Ball, you can add annotations to your Google Analytics reports, which will help you understand the impact of marketing campaigns, updates, press, and more.
You can also connect Crystal Ball to over 4,000 apps via Zapier, which will automate the process of adding annotations based on your tasks and actions between multiple apps. Crystal Ball is a powerful tool that can help you simplify your data analysis and keep track of your marketing strategy.
What does Crystal Ball do?
Crystal Ball allows you to view the events that are associated with the first touchpoint or event by automatically adding annotations.
You can display these insights in a Chrome extension, Google Analytics charts, and Google Data Studio.
You have many ways to add annotations:
1- add annotations via API,
2- add annotations via CSV,
3- Add annotations manually,
4- Integrate with tools, and
5- Automations.
Is working on lasted Google Analytics 4 (GA4) and also on Universal Analytics (UA)?
Yes, it is possible to work on both GA4 and UA simultaneously. Annotations for both GA4 and UA are supported. Additionally, you can display your annotations list on Data Studio.
How do I install and use the Crystal Ball Chrome extension?
1. To install the Crystal Ball Chrome extension, first create an account on the Crystal Ball website.
2. Next, download the extension and install it. 3. Once you have installed the extension, go to a Google Analytics report and click the GAannotations icon that shows up at the top right of your browser.
4. Login in the extension to your Crystal Ball account.
5. On Google analytics go to one of your Google Analytics reports, click on any of the Crystal Ball little red icons you see above the Google Analytics chart to see the details of the annotation.